Exciting news for Copper's Marketing Tools 🎉 Our web visitor tracking feature can now record UTM codes directly in your Person and Lead records, providing you more insight into the campaigns and sources driving prospects to take action 🚀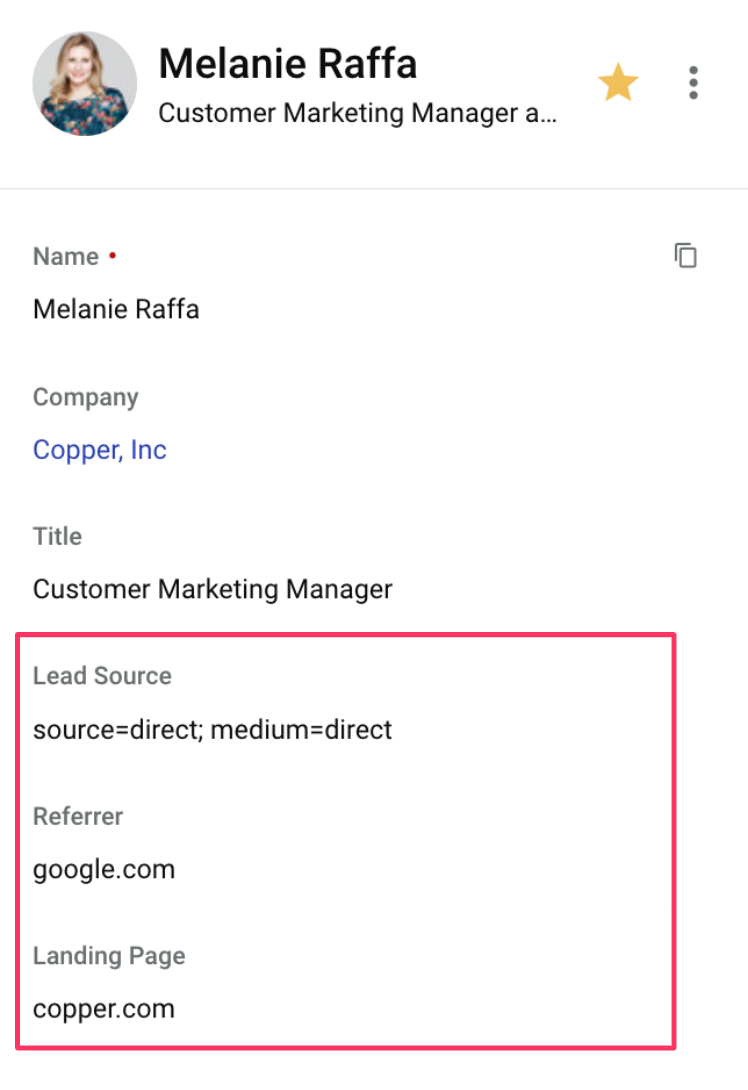 When a contact completes a form on your website or clicks a link in your email, information about their web visit is pulled into Marketing Tools' Web Tracking. UTM tags are recorded automatically, and if none are available, the tool will auto-detect the source and medium. Previously, this information was only visible within the Marketing Tools tab under Web > Channel Report. 
Now, you'll be able to view a contact's source (ex. search engine or website domain) and medium (ex. organic, paid or referral), referrer URL and landing page directly in your Person and Lead records 🙌 This information is visible automatically as custom fields. No setup is required on your end 👍
Access next-level insights with UTM data
This new functionality will help you:
Prioritize your outreach based on your most important leads
See and act on key source information like whether prospects were referred to you by preferred partners or engaged with you through a time-sensitive promotion. 
Optimize your future marketing efforts
Build in-depth reports to analyze how different campaigns are driving sales for your business, and ensure your marketing strategies are utilizing your strongest sources of traffic. 
Available now 
This feature is now available for Business tier customers. To learn more about our Business plan, reach out to our sales team at sales@copper.com.