This week, we updated our scheduled email feature for Reports for more customization, added UTM codes on Copper person and lead records for Business tier customers, and made error code improvements on our RingCentral integration.
Reports
We've made some updates to our scheduled email feature for reports:
You can now make changes to existing scheduled emails. Before, once a scheduled email was set up, it was not possible to edit the email. All recipients needed to click the unsubscribe link in the email. You can now change the time the email is sent, and add or remove recipients.
You can now add more than one dashboard or insight to a single scheduled report. Previously, you could only send one email per dashboard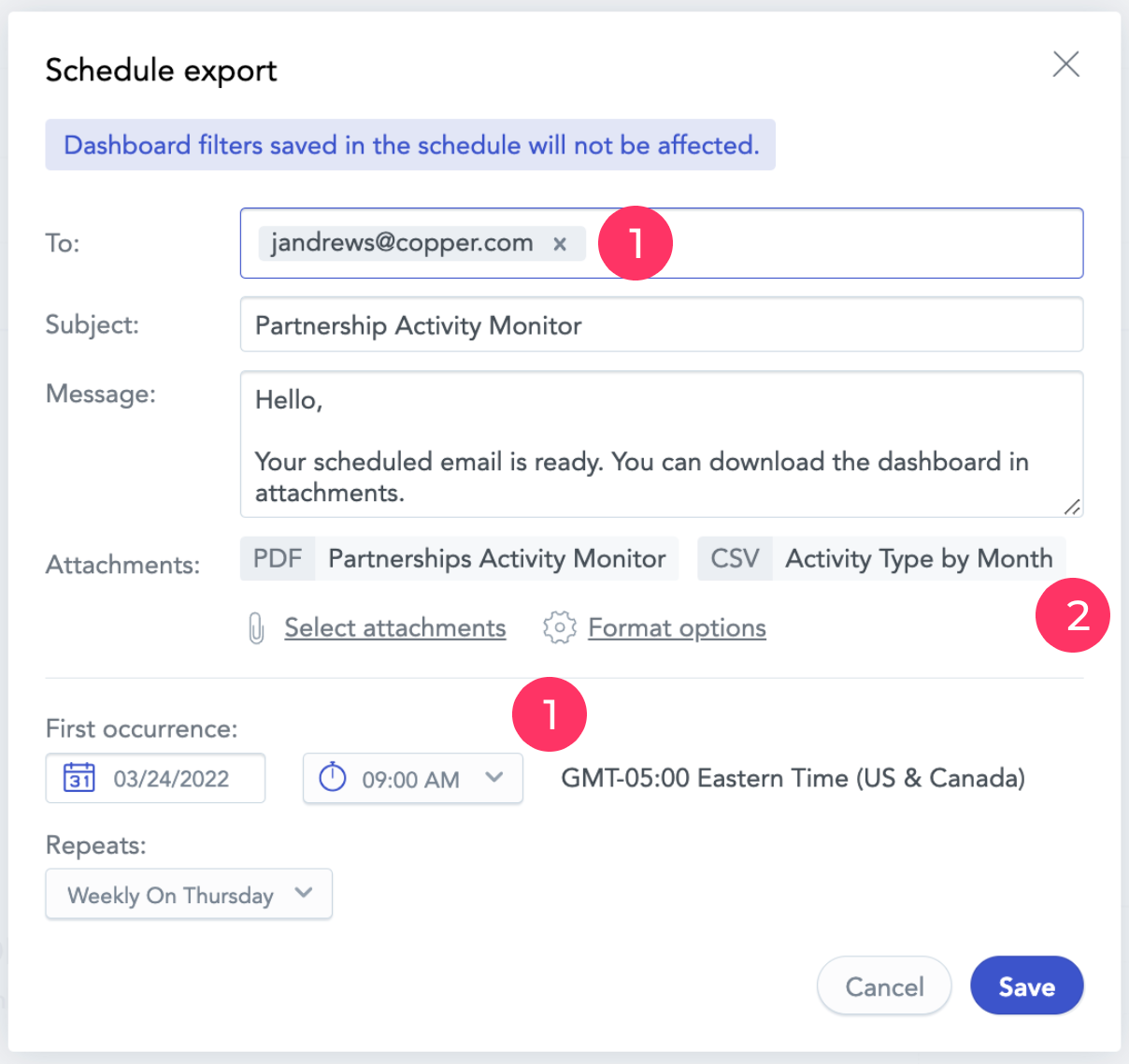 To edit your scheduled emails, head to Reports > click "…" in the top left corner, then click "schedule emailing."
Marketing Tools
We've updated our web visitor tracking feature to allow UTM codes to be surfaced on contact records. 
Previously, tracked UTM codes were visible only within Marketing Tools tab Web > Channel Report. Now, a contact's source (like a search engine or domain) and medium (like organic, paid or referral) will appear directly in your Person and Lead records. 
This functionality will allow you to:
Sort and organize your prospects to prioritize outreach based on your most important leads - like prospects referred to you from a preferred partner, or prospects that came to you through a time-sensitive promotion.
Build in-depth reports to visualize how different sources and mediums contribute to your overall sales, so you can optimize your marketing efforts in the future. 
This feature will be rolled out to Business tier customers over the coming weeks. To learn more about web visitor tracking in Marketing Tools, click here. 
Bugs & Minor Enhancements
Developer API - We resolved an issue that prevented customers from being able to fetch records when using a custom text field value to search. 
RingCentral Integration - To make it easier for Copper customers to integrate with RingCentral for the first time, we've made a few updates:
We've clarified the error messages that are displayed during the setup process, including authorization, timeouts and permissions.
We've also clarified the message that appears when a standard user attempts to set up an integration. For security reasons - RingCentral only allows "super administrators" to initially set up integrations.