The file goose chase 🦆 is over! A new way to access and organize important customer files is here. 
Being in a customer-facing role, you've probably noticed your files aren't always where you need them to be — especially if you're following up on customer conversations from days or weeks ago. Our newest release puts files right at your fingertips with Copper's auto-related files and easy access to documents right from Gmail. 
The days of searching through Google Drive folders, emails and message threads are behind us 🚀 You'll be on the ball with customer interactions and able to spend more time doing actual work instead of searching for that elusive file 🔍
Check out this quick video overview:
How does it work? 
⚠️ Heads-up! You'll need to enable this feature to get started. Check "mark synced emails visible and automatically relate files to records" in your settings if you haven't already. You can access that setting here.
Surface your most important client documents where you need them
Your files section has gotten a facelift, and you'll be able to toggle between three different options: 
Your manually uploaded files will continue to appear under Uploads 

Under Auto-Related, Files and Google Docs emailed to contacts in Copper now appear automatically on their Person record 💪

Under All Files, you'll see both documents you've manually uploaded and your auto-related files 
You can search by name and preview or download the files you need ✨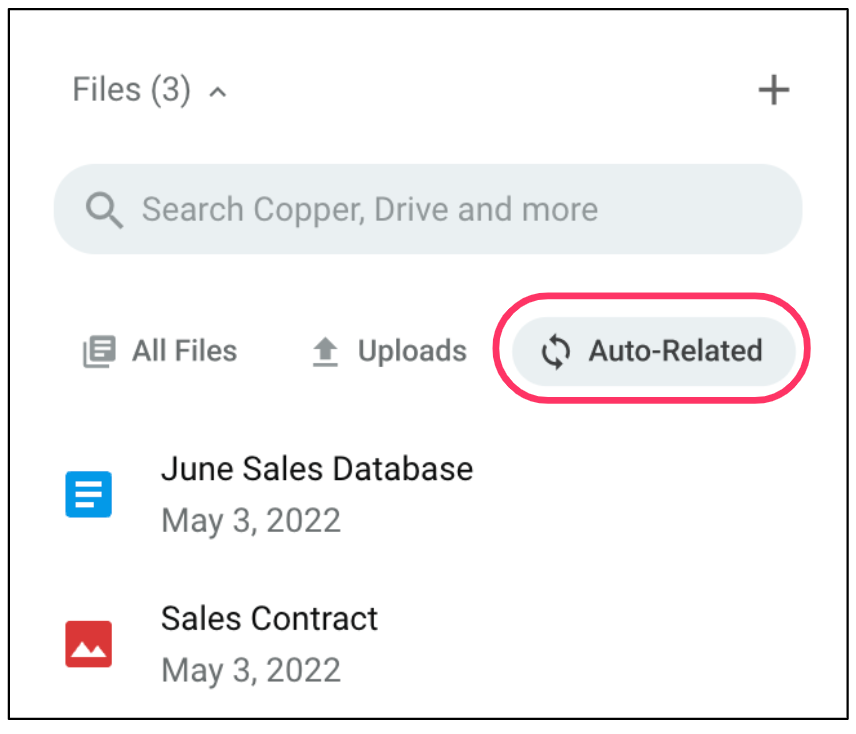 Discover People files related to Companies and Opportunities 
Company and Opportunity records also got a facelift! You're now able to explore files added to Person records within a Company or Opportunity. No need to flip-flop between record types to find the document you're looking for 👀 Click on People Files and select a contact to look through the files associated with their record.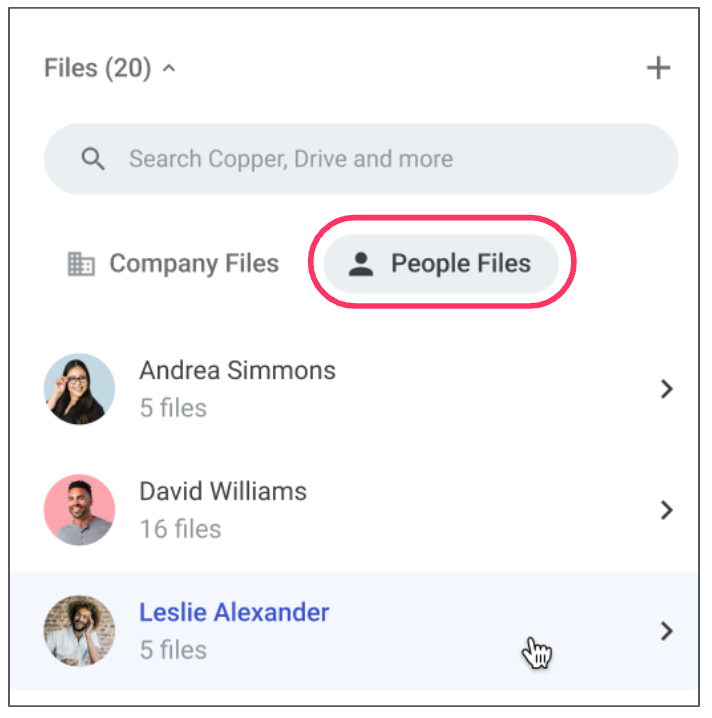 Locate and send documents right from Gmail
Things get even more exciting in Gmail! When you have Copper's Google Chrome extension installed and you're composing an email, you can now click the paperclip icon 📎 to add files directly from Copper. When Add from Copper is selected, you can search for files by name or by People, or peruse your most recent files 🙌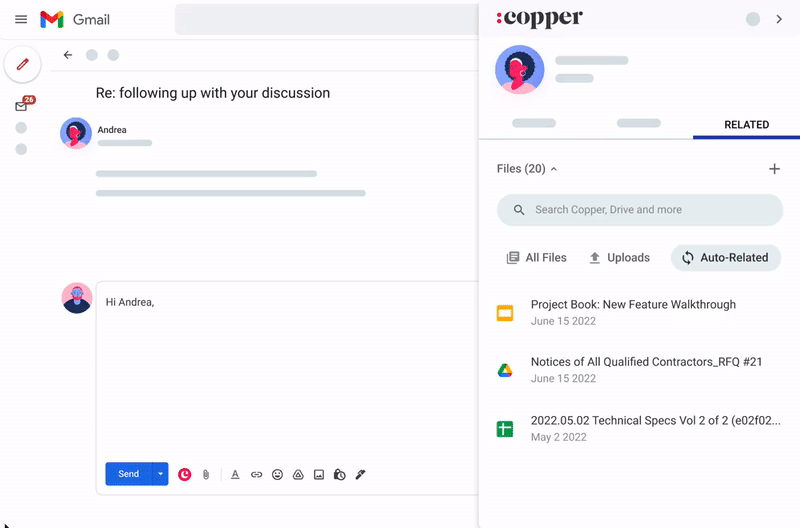 How do I use this new functionality? 
Copper's new file features are now available to all customers. To ensure everything is working properly, you should: 
🚨Install the Copper Chrome extension to use this functionality in Gmail.
🚨Make sure your synced emails are visible, which allows attached files and links to be auto-related to your records, and your team to have visibility. Go to Settings > Personal Preferences > Email Settings and Templates, then ✓ check "Mark synced emails visible and automatically relate files to records." 
Frequently asked questions: 
How far back will Copper auto-relate files? 
Auto-relating files will only happen for net-new files and emails synced to Copper. 
What if I don't want to use this functionality?
By toggling your file view to Uploads, you'll only see files you and your team have manually uploaded. 
If you don't want files to auto-relate to records, you also have the option to set "mark emails as private" in your email settings.
Does the feature recognize duplicate files?
The auto-relate functionality will recognize duplicate files by file name, content or ID (if it's in Google Drive or a Google Doc). For example, if a file is shared multiple times in an email thread, it'll only appear once within the Person record's auto-related file section. 
We hope you enjoy this new functionality and we look forward to hearing your thoughts 
The Copper team