Hello Copper Community! Here is an overview and introduction to customizing Loss Reasons in Copper!
Note: As of March 2022, Opportunities in the Copper left-hand menu is changing to Pipelines. Click here for more information.
What are Loss Reasons and why are they important to Customize?
Loss reasons categorize the reason an Opportunity is was lost. Clearly defining your Loss Reasons will provide you the data needed to understand why Opportunities fall through, and where to make changes to improve your conversion rates.
When an Opportunity is lost, Copper prompts you to select a Loss Reason and to log any additional notes.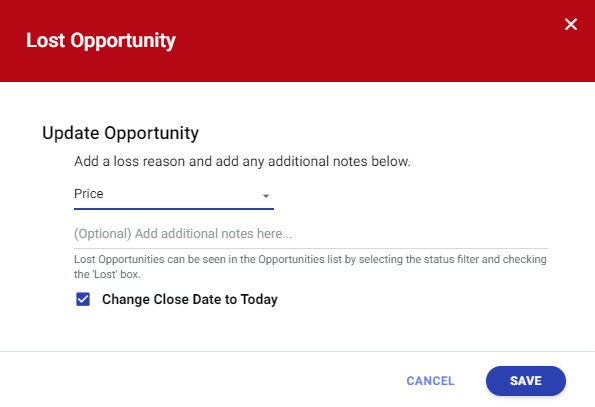 Customizing Loss Reasons for your business
The default Loss Reasons in Copper are:
Competitor,

Features, and

Price
Every business will have unique Loss Reasons that align to their industry and product. Reviewing lost Opportunities from the past quarter or year can be a great place to start identifying the Loss Reasons for your business.
Here are some additional common loss reasons to consider:
Timing: 

Due to unfortunate timing deals can be lost despite a good fit for the customer. If this is the case, loss notes will be key to identify if an opportunity is possible in the future.

Loss of Champion: 

In B2B transactions, often deals are led by a champion on the side of the customer who believes your product will add value to their business. If you find deals are falling through due to a loss of champion, a good action might be to train your sales team to engage multiple stakeholders during the sales process for example.
When you're ready to customize your Loss Reasons, go to Settings > Customize > Loss Reasons in the Copper web app. Note, only Admins can edit Loss Reasons.
Once you have identified your Loss Reasons, you can begin looking at trends in Reports to make informed sales improvements and improve the conversion of your opportunities.