The latest Coffee with Copper is here with a bang 💥 With our most exciting webinar chat room yet, our speakers and attendees alike lit up this session on email marketing. In this recording, we break down the different marketing tools in Copper, how they work and when it's best to use them based on your marketing and sales initiatives. 
Katrina, our content marketing expert, and Kristy, our account management expert, warm up the virtual stage with their hot takes on all things email marketing, including how to keep your brand top-of-mind with email and delight your customers throughout their journey 🚀 
Copper Poll ✔: Interestingly, 52% of live webinar attendees are already using one or more of Copper's email tools, while about 28% aren't using one yet but would like to in the future. Where do you fall?
As an intro to this session, your's truly (Copper's Customer Marketing Manager), starts off by walking through the what and why of email marketing 🔍
Simply put, email marketing is the process of promoting an organization's brand, products or services to their contacts through emails delivered to their inbox. This could include one-off emails, email blasts or email drip campaigns that deliver marketing messages to your audience base — and everything in between. 
But more importantly, we dive into the why of email marketing. Why has email been able to remain such a key ingredient in many organizations' marketing mix despite a quickly evolving communications landscape?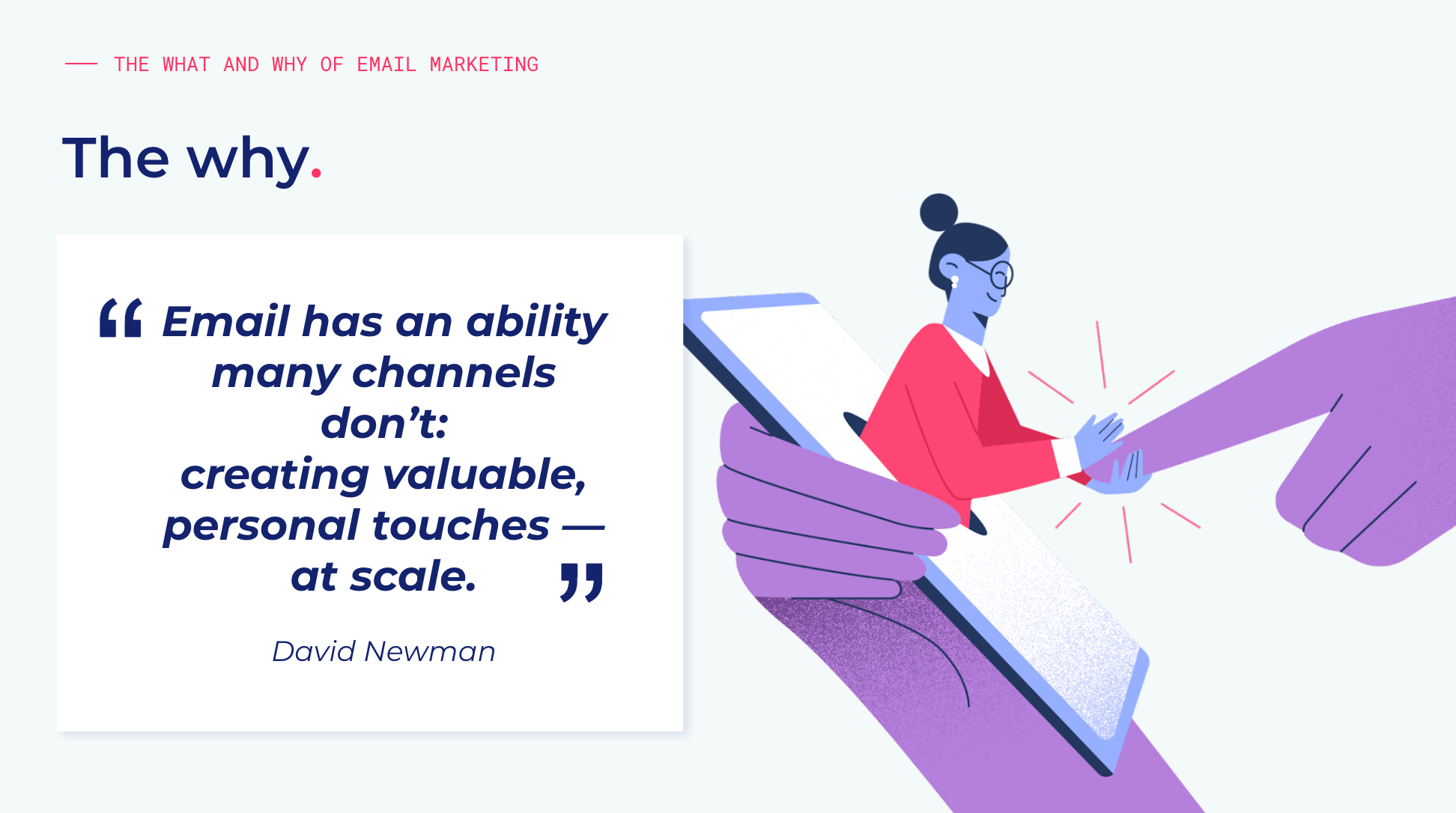 Email has the ability to be highly personalized while remaining scalable. Personalization helps foster hope in the recipient — the hope that if they stay subscribed, they'll receive a tailored offer or resource that solves their problem or meets their need. That could be a discount on shoes still in their cart, or an ebook related to content they just read on your blog or saw in a webinar. B2B or B2C, personalization is key 🔑
To wrap up the first section, I touch on some of the email tools available in Copper and when they might be useful. These include: 
Next, Katrina sits down to chat all things email for marketing. She tells us some of the reasons Copper uses email as part of our marketing strategy. 
"When done strategically, email can support a wide range of objectives — from increasing brand awareness all the way down to driving conversions and sales. There are different ways to approach email marketing, but in my experience, the most effective approach is to align emails with a stage in the buyer's journey."
During this fireside chat, Katrina walks us through some examples of Copper's email marketing campaigns, including: 
Newsletters

Product announcements

Content nurture email sequences
To wrap her section, Katrina shares some of her best practices for email writing: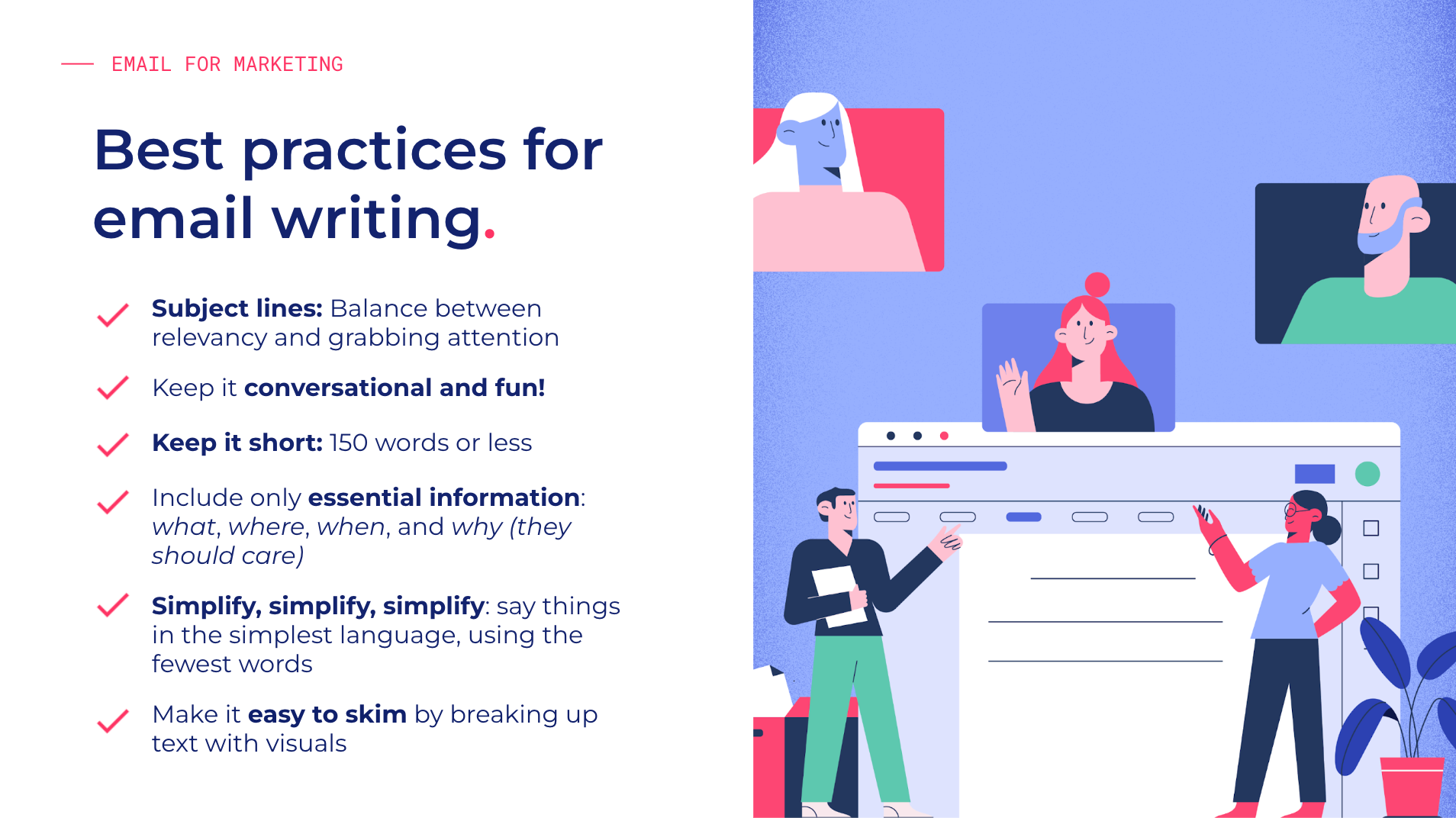 Following Katrina, we invite Kristy to the virtual stage to talk about using email for sales. We dive into how the sales team uses email to meet their objectives.
"In the Account Management team, email is our primary channel to connect with our customers… It's really important to understand what exactly the KPIs look like in terms of your sales objectives. For us, our key KPIs are 'meetings booked', 'opportunities created' and 'opportunities won'... Our team is using a variety of different email tools in Copper, including the PersistIQ integration, bulk emails, templates and email sequences in Marketing Tools."
Kristy shares some of her best practices in the space, including starting with a plan around the data you need for a targeted and personalized campaign, and ensuring you're regularly reviewing your automated workflows to ensure they include personalized touches based on where someone might be in their journey with your brand.
The webinar concludes with a live Q&A session. If you have any questions after watching this webinar, please drop them in the comments section below.  
Happy emailing,
Melanie at Copper