Here we're going to dive into the features of our mobile app so that you can use Copper on the go!
Table of contents
Download the mobile app
The Copper app is available on the App Store for iOS and Play Store for Android. Simply search for "Copper" and look for the pink Copper logo.
Once you've got our app on your device, open it up and check out some of the core features. Let's dive in!
Access your records
To access your contacts, opportunities, tasks, or projects, click on the More icon and select the record type you'd like to see.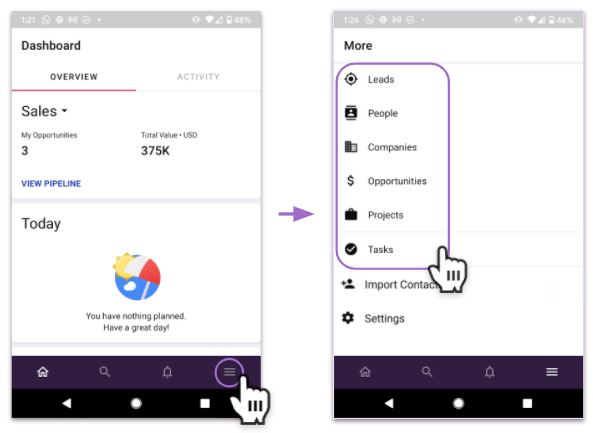 Once you open a record list, you can apply filters to narrow down your view. Or, if you're looking for a specific record, you can use the search function by pressing the magnifying glass near the bottom of the screen.
Inside each record, you'll see the same major features as in the web app: the details section, the activity log, and the related section.
Import your phone contacts to Copper
Our mobile app makes it very easy to import your device's contacts into Copper.
Sending emails & email templates in mobile
If you open a contact, you'll see an Email icon - click it to compose an email to them! From there, you can apply an email template or a merge field, which populates the email with a field from their contact record.
If you don't see the email option, check that this feature is turned on by going to the More options (bottom right corner) > Settings > Email > Send and Reply to Email.
Log phone calls and SMS messages
If you're on Android, the Copper app can automatically log an activity each time you call or send a text message to one of your Copper contacts. To enable this, go to More options (bottom right corner) > Settings > Phone or SMS and enable the Tracking toggle.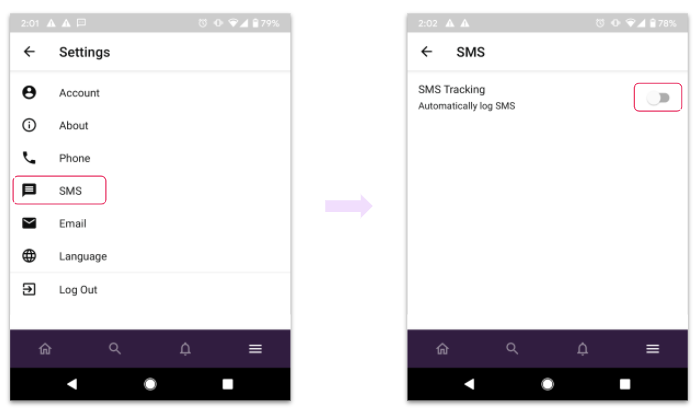 If you're on iOS, the Copper app can help you log calls and SMS messages if you initiate them from within the Copper app.
Learn more about this feature in this article.
What is accessible from the mobile app?
The Copper mobile app is designed to give you access to your records on the go. As such, you can easily access and edit these items in mobile:
People
Leads (if enabled in your system)
Companies
Pipelines and Opportunities
Projects
Tasks
Mobile-specific settings
You can not access these areas from the mobile app:
Personal preferences such as your time zone and profile picture
Reports
Marketing Tools (if enabled in your system)
Copper system settings such as adding/editing custom fields and pipelines, workflow automations, inviting users, and billing information.
You will need to access the above areas from the web app.
Questions or comments?
We'd love to hear it! Leave any questions as a comment or forum post. And if you have any suggestions on how we can improve the mobile experience or any aspect of Copper, post it as an Idea!