Our Marketing Tools suite is available on the business tier of Copper - check out our pricing page for more details or talk to our sales team at sales@copper.com.
Marketing Tools allows you to improve your marketing reach from within your Copper system.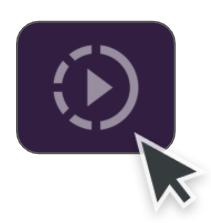 There are a lot of features to talk about here so we'll break this overview up into one section per major area. For each one, we'll give you a brief description and links to more in-depth instructions.
If you have any questions, feel free to leave a comment or post in our community forum.
Let's get started!
Accessing Marketing Tools
To access Marketing Tools:
Make sure you're on a Business tier subscription of Copper, and
Open the Copper web app. In the purple sidebar there's an icon for Marketing Tools - simply click it to access it. From there, you will see a grey sidebar that gives you access to each tool within Marketing Tools.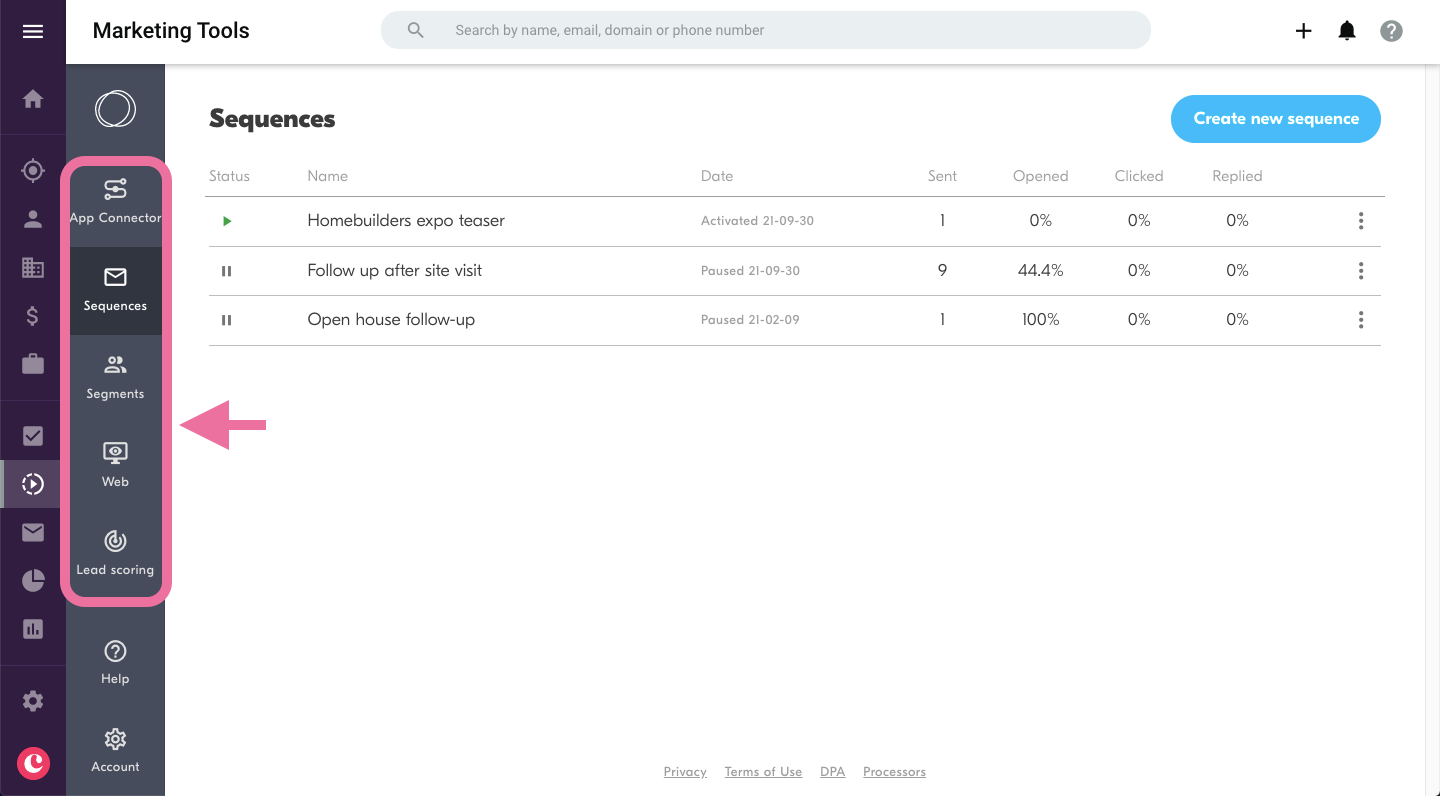 If this is your first time opening Marketing Tools, it will ask you to verify your company's email domain before you can access all the tools.
Verifying your domain
Before you access Marketing Tools, you must connect your company domain.
Click on the Marketing Tools icon on the left sidebar in the web app.
Select which domain you'd like to connect with and click continue.
Click to agree to the terms and conditions.
Note: Your email domain options are based on the email addresses of your Copper users. At least one user needs to have an email associated with a business domain (e.g. frank@copper.com) as opposed to a Gmail domain (e.g. frank@gmail.com).
Once your domain is connected, you can access all the Marketing Tools. If you are having trouble connecting your domain, or if you need to change your domain, please contact our support team using the in-app chat or through this form.
App Connector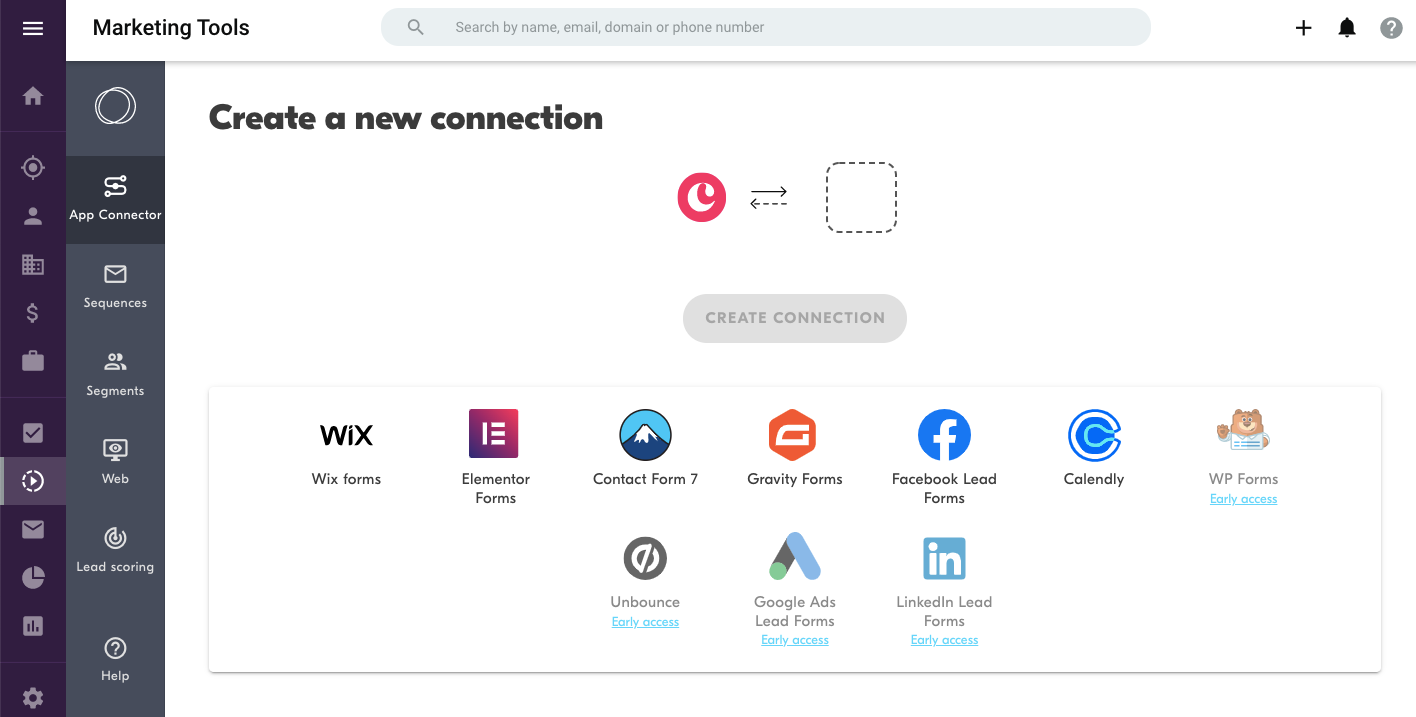 App Connector allows you to build connections with other apps very easily without any code. These connections take inputs from other platforms and use them to populate Copper.
As an example, if you connect a form you created through Facebook Lead Ads, the App Connector can create a new Lead in Copper for each new form entry you collect. It will also log an activity on that Lead so you'll have all the details available in Copper.
Setting up a connection is as easy as:
Selecting which app you'd like to connect,
Authenticating on that app through a login or API key, and
Confirm your setup and your field mappings.
Some of our App Connector connections include:
The links above will take you to more detailed instructions on setting up those connections.
We're building and adding new connections regularly so for the most up-to-date list, take a look directly at the App Connector within your Copper system.
Sequences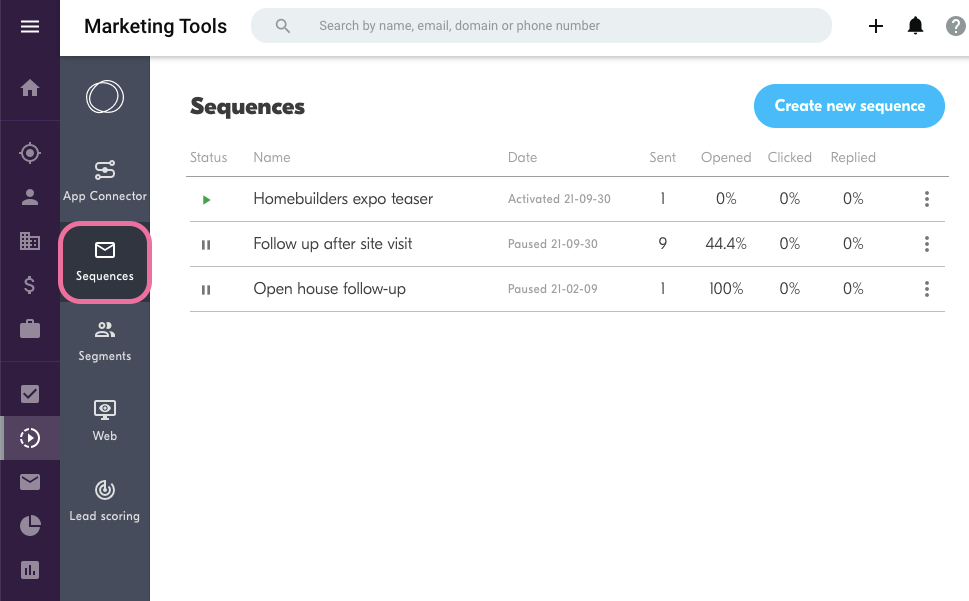 Sequences are a powerful way to automate outreach to your prospects, customers, and other contacts within Copper.
This feature allows you to:
Set up a single or series of emails that are sent based on triggers you define (e.g. a specific tag is applied to a contact) or an engagement-based segment (see next section for more info).
Customize those emails with merge fields (such as a contact's name or info from a custom field), images, call-to-action buttons, and HTML.
Automatically change the apparent sender of those emails to the owner of that contact.
Collect and analyze the performance of each sequence using data such as open rates and click rates.
Pause and edit sequences to optimize performance.
Click here for step-by-step instructions on how to set up your first sequence.
Segments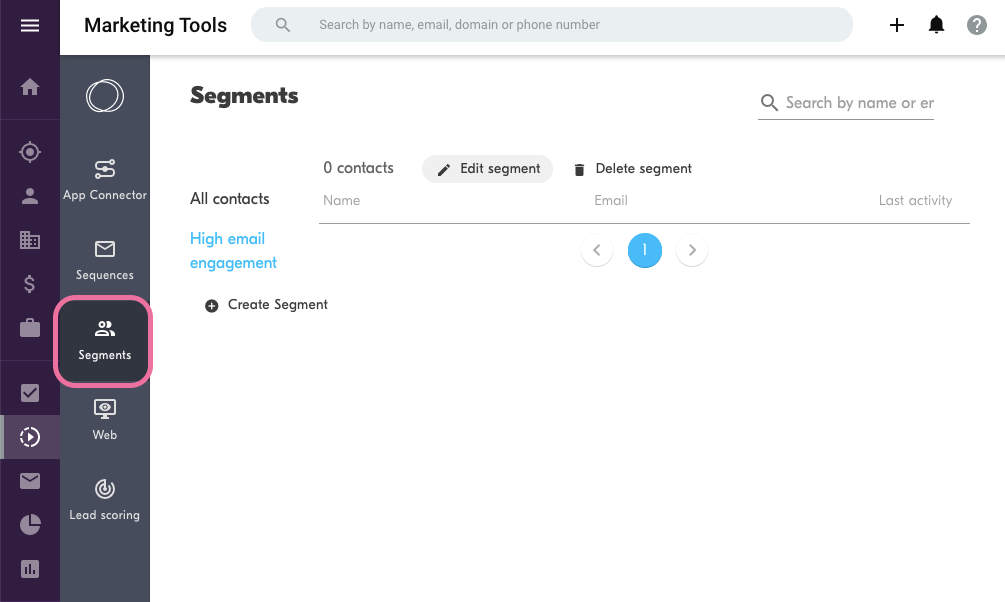 Segments allow you to target your sequences by grouping your audience based on their engagement on email sequences and your website.
For example, you can set up a segment specifically for contacts who clicked a link in one of your email sequences or who visit a certain page on your website.
This allows for strategic re-targeting. For example, you might set up an email sequence with a promotion code for those who have visited your website's pricing page.
Click here for step-by-step instructions on creating a segment.
Web Tracking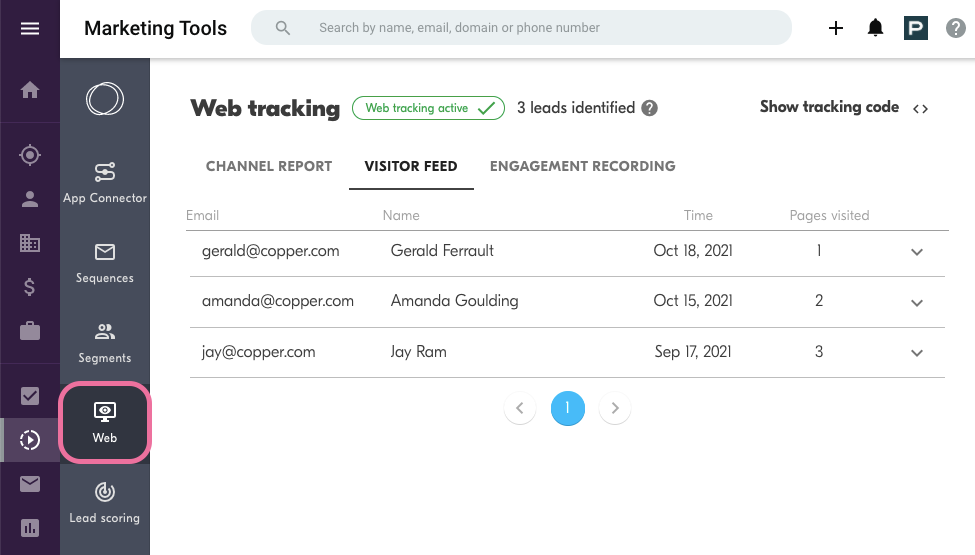 Our web tracking feature allows you to track which of your leads are visiting your website and when. This data is then accessible to you within the web tracking module of Marketing Tools. You can also use it as a contributing factor in a contact's lead score (see next section), or as a way to create more targeted segments for email sequences.
To enable web tracking, you'll need to embed the tracking code on your website. Click here for step-by-step instructions on setting up web tracking.
Lead Scoring
Lead scoring allows you to leverage the data you've collected through your email sequences and web tracking to quantify a contact's engagement. This acts as an indicator of how interested they are and whether they should be prioritized in your outreach.
The scores are generated automatically using the criteria you define in the Marketing Tools system.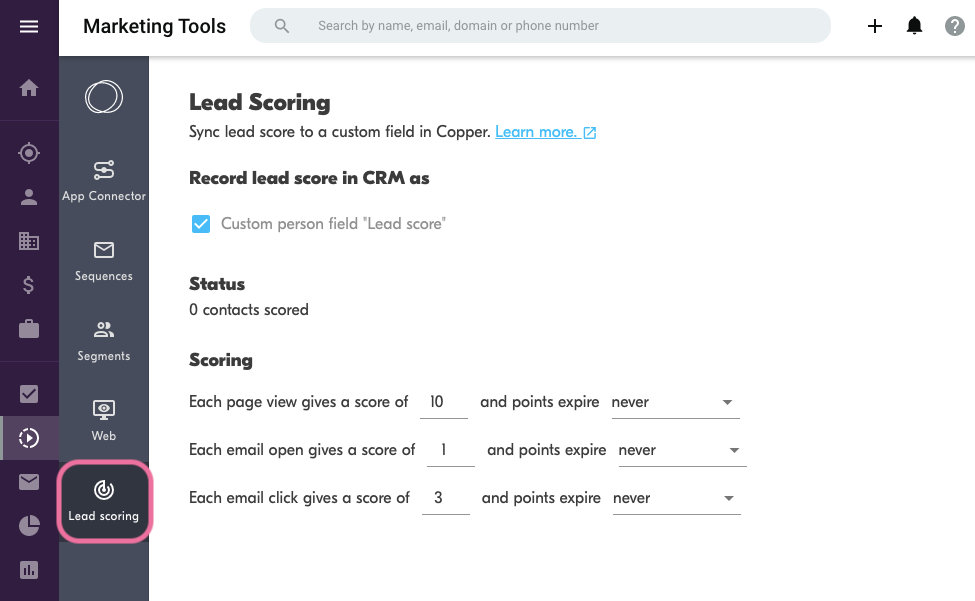 With lead scores, your team can make data-driven decisions on which contacts to engage with.
Click here for step-by-step instructions on setting up lead scoring.
If you have any questions on Marketing Tools or any other part of Copper, feel free to leave a comment or post in our community forum!