Record filtering
You asked, and we listened — advanced filtering on text fields will soon be available in Copper! You'll be able to easily locate and segment important records by filtering on default and custom free form text fields right from the web app.
With Copper's new advanced filtering, you can:
Filter on default and custom text fields on your Copper records to locate important contacts
and companies

Match text fields "exactly", "containing", "with any value", or "with no value" to
flexibly segment your customer records

Import data with custom text fields you can later filter on — no need to reformat your data in
order to use filters
To get started, click on the "filter" in the top right corner of a Company, People, Opportunity or Task list. Next, scroll down to a text field (like Name or Title). 
From there, you can select the conditional logic you'd like to filter on (matching "exactly", "containing", "with any value" or "with no value").
Additionally, we will also be rolling out the ability to select multiple criteria over the next few weeks. You'll also be able to take it a step further by using the match "any", "all" or "none" function to qualify your search.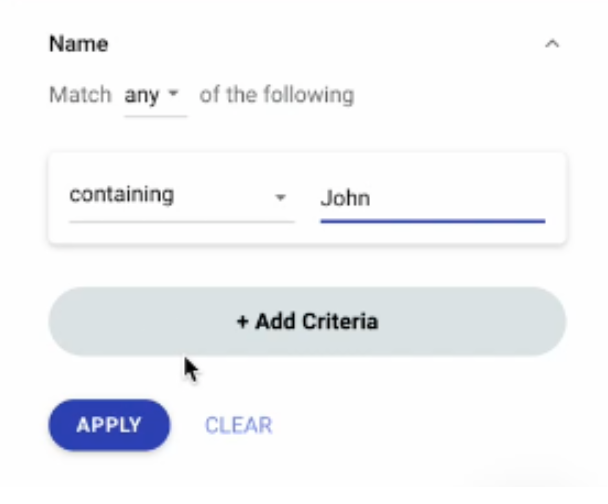 Bugs & Enhancements
We've squashed a few bugs this week:
Some areas of our import and export tool had mentions of "Prosperworks" (our old company name) that we've now switched to "Copper." 
We've increased security on our web app email.
We've also made a few small enhancements: 
When you're creating a new Pipeline, when you click "Done", we've added an animation to indicate that your new Pipeline is being built.
Within (New) Reports, bar charts, column charts and stacked area charts are now in the same left-to-right order as the legend.
Within records, we've made empty custom date fields easier to understand. For example, if your organization has created a "Birthday" custom date field, and that field is empty, it will say "Add Birthday."