Drumroll 🥁 please! We're excited to share that a new way to store and organize your files is coming your way 🥳
We know that despite your team's best efforts to stay organized, files seem to go missing right when we need them. We can waste a lot of time clicking into multiple Google Drive folders, search bars, Gmail conversations and message threads — or even asking colleagues for that elusive proposal or report. The file goose chase is enough to drive us mad 🦆
This tangled mess of unfindable files can make your team appear disorganized and unprofessional to your clients. Plus, it costs you so much time that could be better spent doing actual work 😰
You can end the file goose chase
Copper will soon make it easier than ever to surface your most important client documents where you need them. No more searching around for a file you might've sent months ago. Files and Google Docs emailed to customers in Copper will automatically auto-relate to their Person record 💪
From there you can search through all files auto-related or manually uploaded to that Person record in Copper and preview or download the files you need ✨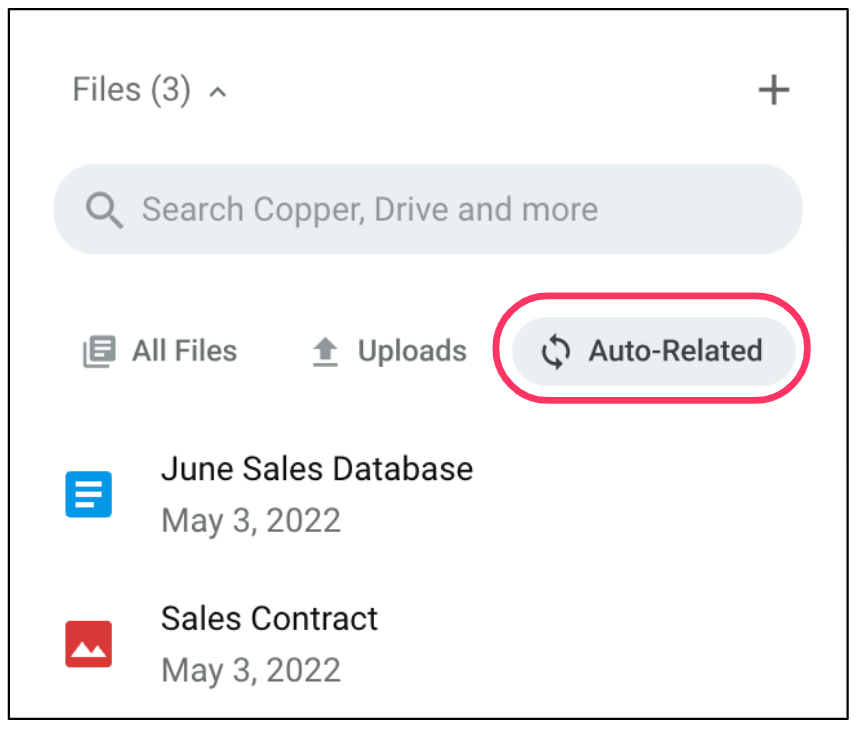 But that's not all! Company and Opportunity records will also have a new file interface in Copper allowing you to explore files added to Person records within Companies or Opportunities. No need to flip back and forth between record types to find the documents you're looking for — efficiency at its finest!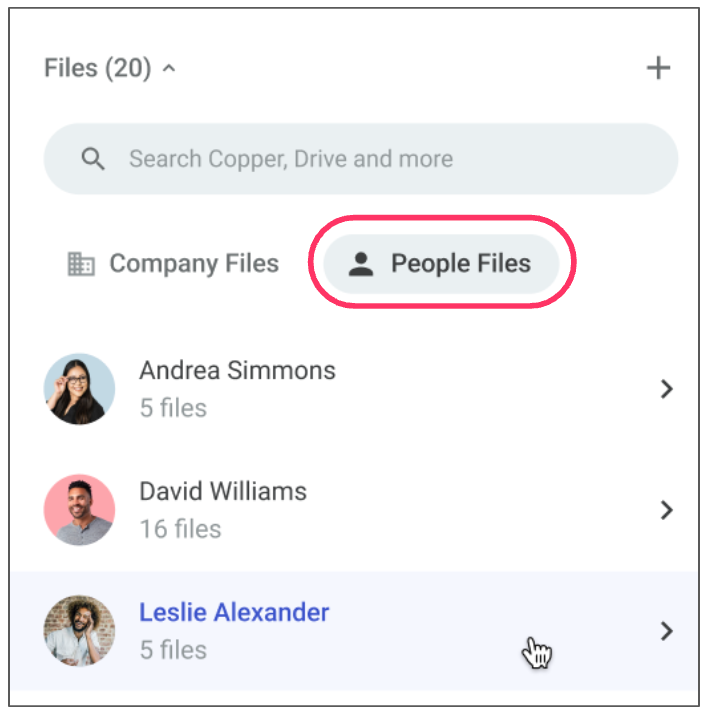 The fun doesn't stop there.
When you click the paperclip icon 📎 while composing in Gmail, you'll have the option to add files directly from Copper!
When selected, you can search for files by name or by Person, or look through your most recent files 🔥
Coming soon
These exciting new features will roll out to Copper customers over the coming weeks. 
In the meantime, you should:
Have the Copper Chrome extension installed to use this functionality in Gmail.

Ensure you mark synced emails visible, so you and your team members can see the files and emails sent to customers. Head to Settings > Personal Preferences > Email Settings & Templates, then check "Mark synced emails visible and automatically relate files to records." You'll be able to share your past emails and files if you choose.
We're excited to hear what you think!
The team at Copper