Welcome to the final article in our Copper Best Practices series - Copper for Consulting Firms! It's no secret that Consultants are relationship gurus, and Copper not only helps to manage those relationships from deal to project, but also build strong and lasting clients. Let's look at two key Copper flows for consulting companies:
Managing new business relationships, and
Nurturing current clients.
Managing New Business Relationships
The first step in managing new business is to customize your pipeline in a way that streamlines deal management so your team can deliver on sales goals and up-level customer satisfaction. We'd created an example Consulting pipeline below:  

This pipeline example highlights the collaborative nature of consulting and the need to work with your client to determine the scope of work. Your process might include different steps or names.
Some firms also create stages beyond creating the SOW, such as a stage for first payment or for a project kickoff meeting. The most important thing is for your pipeline to align with your process and with what you would like to track, whether it's pre-sales, post-sales, or a combination of the two.
Custom Fields for Consulting
When configuring custom fields on your Opportunity cards, ask yourself:
What information is important in order to close a deal with a client?
What information do we want to report?
Which details will help us forecast and plan accordingly? 
Answering these questions will help give you clarity on what data you need to store in Copper and which custom fields you'll need to build as a result.
Consider the custom field recommendations below: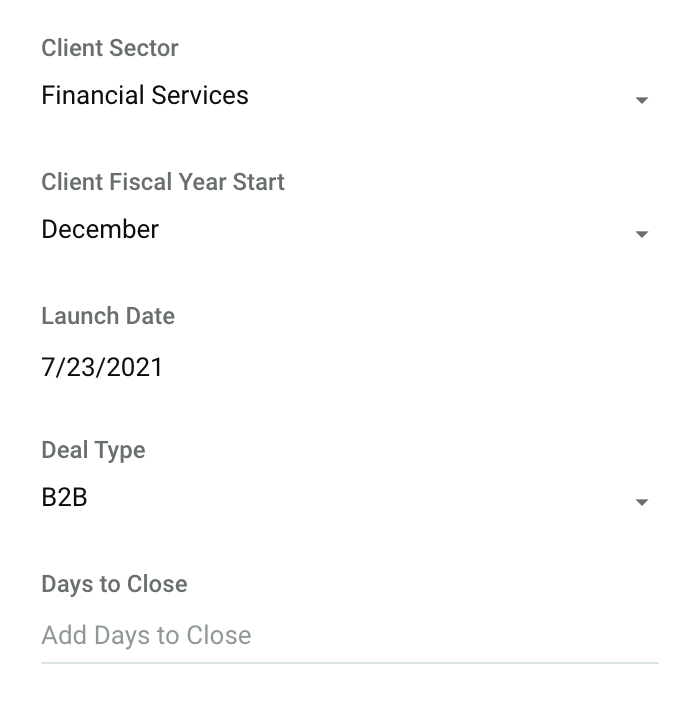 Client Sector: What industry is this client in? Should we allocate team members to work deals who specialize in industry specific use cases? 
Client Fiscal Year Start: How does the client structure their budgeting process? How can we closely align with it?
Launch Date: Expected launch date of project to help you ensure deadlines are met and resources are there to assist the client. 
Deal Type: Do we need to run a report on the most common deal types? 
Creating these fields and then incorporating them into Copper Reports will paint a clear picture of high revenue generating industries for your company, and where your team should dedicate their energy. Creating an Insight like the one below to display the value and count of clients and the correlating pipeline stages, provides a view of the team's performance, exactly where Open projects are in the process, and a forecast of what's to come. 

Ramping up your SOW process with VOGSY 
If you are a VOGSY user, consider integrating your platform with Copper to streamline the quoting process when clients reach the SOW stage of your pipeline.   
VOOGSY allows you to keep track of every client and deal, create quotes and build SOWs on your soft-booked projects. Any updates of funnel stages and other details get synced bi-directionally.When budgeting a project and building the plan in VOGSY, you can use this information to automatically generate a Statement of Work. All deliverables, timelines and pricing included.
Click here to read more about our VOGSY integration.
Nurturing Current Client Relationships 
Nurturing Current Client Relationships 
In consulting, building and maintaining successful relationships is the "beating heart" of your company. The outcome of an entire project can depend on the strength of your relationship with a client, and also influences future referrals. 
Using Copper Projects to Map Client Work
There are multiple steps involved once a client agrees to work with you, from required documentation and deadlines, to mapping out project concepts and visions. The Projects feature is perfect for handling process heavy workflows that involve multiple steps and multiple individuals. Create a project immediately after securing a client, and begin mapping the project out right away.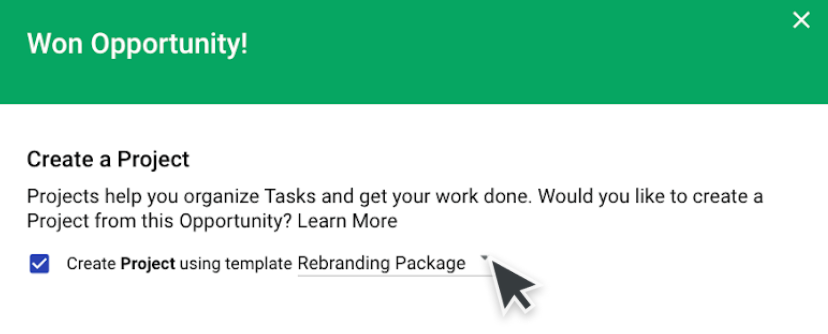 To streamline the new business to client process, we recommend setting up project template(s) that are specific to industry or client size to create pre-set task boards and tasks to use for new projects.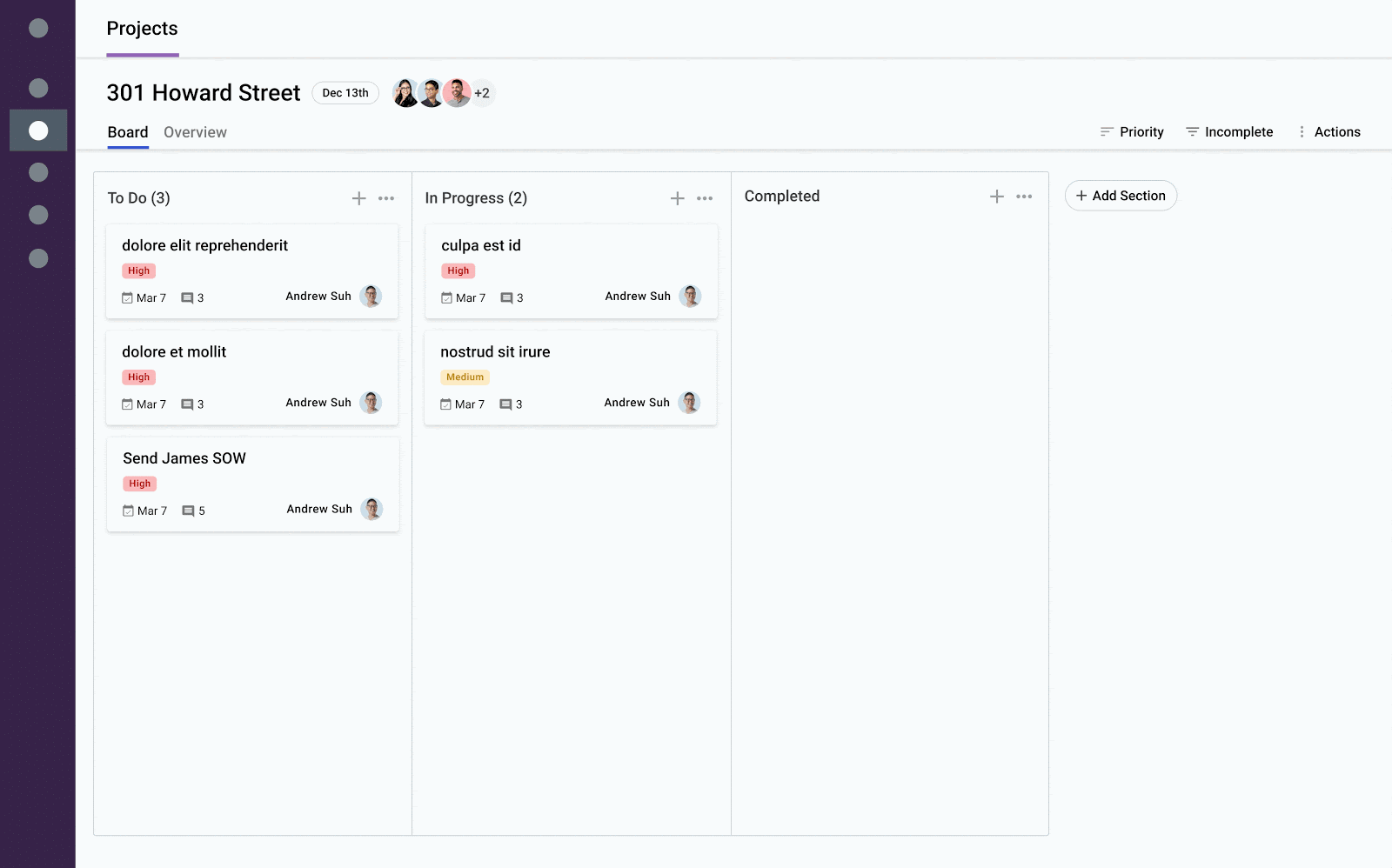 Once a new project is created, you can begin assigned tasks and to-dos to the appropriate team members. Projects also allows you to attach key documents like contracts, design layouts, or project plans. It's an efficient way to keep track of developments, who is involved, and what needs to be done to deliver on time. 
Avoid Playing Broken Telephone with Email Sequences
Clear communication is important for generating synergy in the client-consultant relationship. Create segments using Email Sequences by tagging contacts (ex. September Newsletter, E-Book of Updates) or trigger event-based segments such as website visits or email activity. Defining your email criteria means sending personalized emails to your clients -  a powerful way to nurture relationships easily and efficiently. 
Utilize Inactive Days to Say Top Of Mind and Discover New Opportunities
'Inactive' contacts are often good contacts for your sales team to reengage at a later date. Once identified, you can create a targeted campaign to reengage clients who are a little too quiet, or using workflow automation to create both follow up and check in tasks. We recommend three ways for Consultant organizations to utilize inactive days: 
Sort via the "inactive days" field on people and opportunity records, and save these lists to add contacts to a Sequences reengagement campaign using tags. 
Create a workflow automation for when an opportunity is marked as abandoned or lost to check back accordingly. When the owner receives a notification that the status is changed, it is an opportunity to check back with the customer to see if there is a new opportunity to be had. 
Create a workflow automation with the trigger "Inactive days is more than" to follow up if there has been X days of activity. 
Looking for more inspiration on Copper best practices for Consulting organizations? Check out our Copper Resources site. Thanks for joining us for Copper's Best Practice series!