Hey Copper Community!  Let's look at how Copper users use pipelines in the real estate space.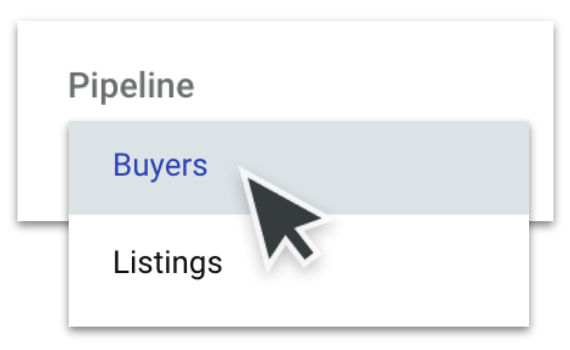 Real estate teams leverage pipelines for building strong client relationships by reducing data entry, increasing transparency, and providing insight. The two pipelines we see most often are the buying and listing pipelines.
As you look at the two pipeline examples below, keep in mind that they are a starting point. When you build out your organization's pipeline, think about what makes sense for your team and keep in mind some of our pipeline best practices:
Make sure your pipeline stages correspond to distinct milestones.
Where possible, try not to exceed 8 or so stages. Of course, more stages can work in a lot of scenarios too - it largely depends on the amount of granularity you need in your pipeline and if your team can manage a longer pipeline.
Buyers Pipeline
Building a pipeline for buyers helps you keep track of where a client is in their purchasing journey. That pipeline might include these stages:
Qualified
Exclusivity Agreement
Search in Progress
Offer Submitted
Offer Accepted
Closing Period
Closed
Many Real Estate organizations choose to create more specific stages for Home Inspection, Financing, and Legal Docs instead of bundling them all together under Closing Period.
Listings Pipeline
The pipeline for tracking the seller's side would be different from that of the buyer's side. It might include stages such as:
Qualified
Listing Agreement Signed
Active Listing
Offer Negotiation
Offer Accepted
Closing Period
Closed
Similar to the Buyers Pipeline, you might choose to create smaller more specific stages for Home in place of Closing Period. Some organizations also specify stages for Staging and Open House.
Segmenting and filtering opportunities
Adding custom fields to opportunities can help you and your team segment and filter the opportunities you're working with. Here are some examples of custom fields that real estate organizations often add:
Dropdown for Unit Type, with options for detached, semi-detached, condo, etc.
Multi-select dropdown for desired neighborhoods
Number field for square footage
Number field for number of bedrooms
Dropdown for Property Type with options for residential, commercial, industrial, etc.
Alternatively, you can create separate pipelines for residential, commercial, and industrial. 
Questions?
Let us know in the comments if you have any questions on how real estate agents use Copper!