This week, we rolled out our new file organization features to all customers, added the ability to assign unique lead scores to specific webpage URLs, and fixed bugs on Android.
Gmail Sync
It's here! Last month, we announced we were working on a new way to access and organize important customer files - and it's now available to all Copper customers on all plans!
The days of searching through Google Drive folders, emails and message threads are behind us. All the files you send to customers will now be automatically added to records in Copper.
Here's how it works:
Automatically attach files and Google Drive links from Gmail or Calendar to Copper records. You won't need to worry if your team remembers to upload files — and if a team member leaves, every file will be accounted for.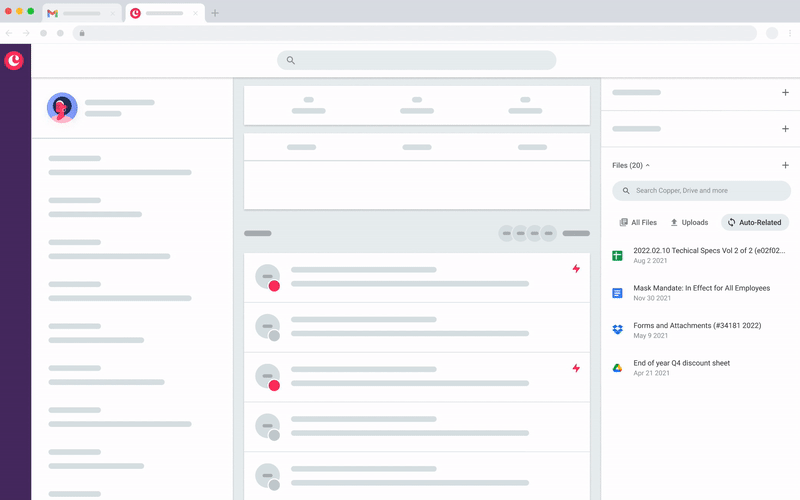 Surface files across your person, company and opportunity records. No need to open multiple tools to see all your files; you can see exactly what was sent, and to whom, without losing track amongst many sales calls and sometimes months-long sales cycles.
To see files, navigate to the right-hand side of your screen, then click the "Files" drop down. If you're in Gmail or side-tray mode, you'll need to click the "Related" tab first, then click the "Files" drop down.
Attach files from Copper directly to your emails. Copper makes suggestions based on files you commonly attach to emails, eliminating the hunting and pecking you used to do.
Click the paperclip icon, and select "Add from Copper." Using this functionality in Gmail requires our Copper Chrome extension.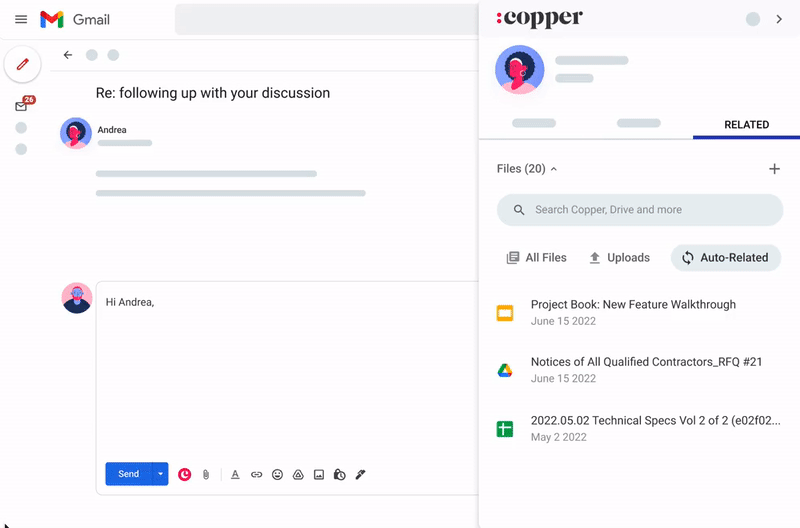 To get started, you'll need to make sure your synced emails are visible, which allows attached files and links to be auto-related to your records, and your team to have visibility.
Go to Settings > Personal Preferences > Email Settings and Templates, then ✓ check "Mark synced emails visible and automatically relate files to records."
Marketing Tools
Copper's Marketing Tools now supports lead scoring by URL. Previously, any and all website visits by a lead were scored the same. Now, you can score webpages that demonstrate higher intent (like your pricing page) with a higher score than other pages. This feature is now available within Marketing Tools on Copper's Business plan.

Bugs
We squashed several bugs on our Android app:
We fixed an issue where searching for a record only showed one record at the top of the list

We fixed a bug where scrolling through all contacts only showed the first 65 contacts

We resolved an issue where saved pipeline filters were not appearing, and the section was blank.